Hu Tao is a playable Pyro character in Genshin Impact. 
She is the 77th Director of the Wangsheng Funeral Parlor, located in Liyue Harbor. 
Hu Tao Ghost Lamp, the bedside essentials by Genshin Go, is one of the hottest-selling products. If you're wondering how to be more productive at night, these new lamps will put your mind at ease while they help you find just the right amount of light and darkness to help you get some much-needed shuteye. Light is divided into three levels, these innovative light levels are just what you need if you need help falling asleep fast after a long day of work or school.
The necessity of hu tao ghost lights (night lights) and usage scenarios
Hu tao ghost lights are a necessity for those who want to enjoy a good night's sleep. Night lights are necessary for children and elderly family members, and individuals who need assistance getting around in the dark. The hu tao ghost lamp is environmentally friendly, made of soft silicone that feels comfortable to touch.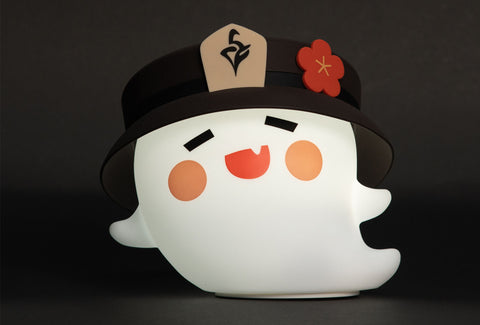 How to use
There is a switch button on the base of the lamp. After turning it on, tap the light body, tap once for 40% brightness, twice for 70% brightness, three times for 100% brightness, and four times to turn off the light. The hu tao ghost night lamp can also be used as a nightlight. It requires only three hours to fully charge.
Purchase Channels
Our Brand Genshin Go is selling this product, the website of the store is genshingo.com. This product is the official flagship product of Genshin Impact, purchased from the official store. 
Store Information
Genshin Go offers the hu tao ghost lamp. Our store mainly sells the surrounding products of Genshin Impact. You can visit our website genshingo.com to find them. Check us out today!
Product parameters
The hu tao ghost lamp is an environmentally friendly silicone lamp that charges via Micro USB. The lamp has only one white light, and its brightness level is divided into three gears. Its size is 15*14.2*13.6 cm, and the charging interface is Micro, which makes it easier to use than most other lamps that use cords as chargers. It costs $69.98.

Light source parameters
Hu tao ghost lamp uses high-efficiency white light-emitting diodes (led) as its light source. Hu tao ghost lamp's white light is created by passing electricity through a semiconductor material to generate photons - tiny light particles. Three levels of brightness.
Charging indication: when the red light is displayed, it needs to be charged, and the sunlight is off when fully charged.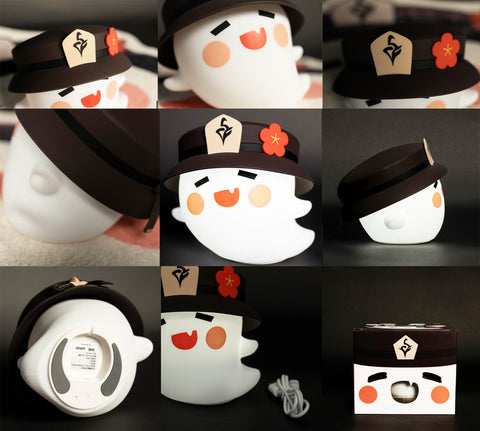 Charging interface
The hu tao ghost night lamp is an environmentally friendly silicone lamp that can be charged by micro USB. The hu tao ghost lamp is perfect for any bedside table or desk as it provides a soft, warm glow to help you sleep better.
Selling point
Genshin's official product; is an environmentally friendly silicone hu tao ghost light good touch; there are three gears to adjust the brightness of the light; hu tao in Genshin Impact, the companion who looks like a ghost. The shape of this lamp is the appearance of a ghost. Its name is Boo Tao. Boo Tao lamp, a high degree of reduction in insomnia and chronic fatigue.
Discounts available
There will be an automatic $5 discount for orders over $50, a 10% discount coupon for new subscription stores, and a 15% discount coupon will be presented. This 15% discount will be a physical coupon sent with the products in the order. After the package arrives scan the QR code above and enter the discount code to get it.