Do you like earphone cases that only protect your earphones? Or do you want to buy the Klee Airpods pro case and the Klee AirPods case? most people will need the earphone case and the AirPods case when they don't want to lose their AirPods, so here is some information about the Klee Airpods pro case and the Klee Airpods case.
Klee's peripheral products
Genshin Go has a lot of peripheral products and is now launching a peripheral product about Klee - Airpods case. This product is a practical protective case in the shape of Klee's character bomb. Klee is a girl who has a strong love for bombs and is also a five-star flamer character in the Genshin Impact. Because of her passion for bombs, she is often obsessed with researching and making new bombs, which also causes a lot of trouble and is usually confined. In the game battle, when Klee drops bombs, will drop many sparks, and the shell of this AirPods replicates the appearance of the game character bombs. It can also be used to protect your Airpods 1/2 or Pro from dust and scratches! Genshin Airpods case; Klee's Bunny Bunny shape; Soft silicone case; Comfortable hand-feel makes your daily life colorful. All these small details will not let you down. All these products are made with love. 
And please take note that it only works for Airpods 1/2 or Pro.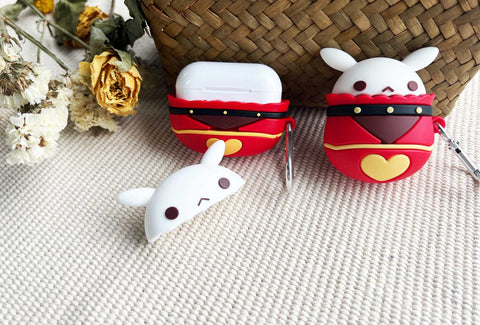 Description of the style of the Klee Airpod case
Description of the earphone shell's shape and style: One is suitable for AirPods 1/2 generation, and the other is suitable for AirPods pro. If you are not interested in Klee's peripherals, there are many other characters' peripherals! 
Is the genshin AirPods case worth buying?
The Genshin AirPods case is worth buying because of its restored form factor. The Klee bomb AirPods case is worth buying because the soft silicone material protects your AirPods well from scratches. Now is the time to get it in your pocket! If you want something that offers protection and looks pretty, then get the genshin AirPods case.
Product parameters
The Genshin Airpods Case is the perfect accessory for your new Apple AirPods! The slim, lightweight design protects your earphones from bumps and drops. Its high-quality PVC material provides durability and excellent protection. It's the perfect way to ensure your investment stays protected while in or not in use. Designed to fit only applicable to Apple's first, second, and third-generation earphones. this stylish protective cover will keep them safe wherever you go. 
The Genshin's Airpods Case is made of PVC, and the headphone case shape is Klee's bouncing bomb rabbit. Klee bomb Airpods case. It cost $12.98. You can buy it at www.genshingo.com.
Selling point
Peripheral products of Genshin Klee's character; Klee bomb Airpods case; Soft silicone case. Don't forget to buy an earphone case for your genshin AirPods or Klee bomb Airpods before you leave! Equipped with a keychain ring, the user can hang it on their clothes while they are not in use. The cover is made of soft silicone material.